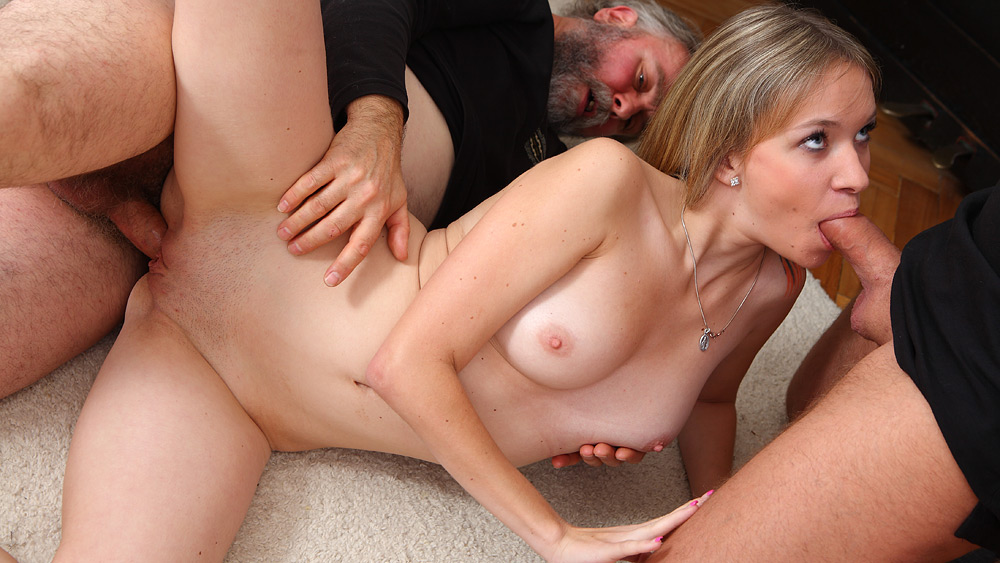 Length: 32:12

We imagine that it's hard to push off the advances of an older, charming man, if you're a young girl; but to be honest we don't care about it as long as we get to see the babe getting nailed by him. That's what happens with Maya. She just doesn't have the willpower to keep the lecherous old dude from getting in her pants. It's not as though she doesn't want it however, because when he suggests these things she simply giggles and goes along with what the old guy wants! Once she drops to her knees and starts chomping on the old guys cock there's no stopping her! When her boyfriend comes back into the room he doesn't have a choice other than to join in the action!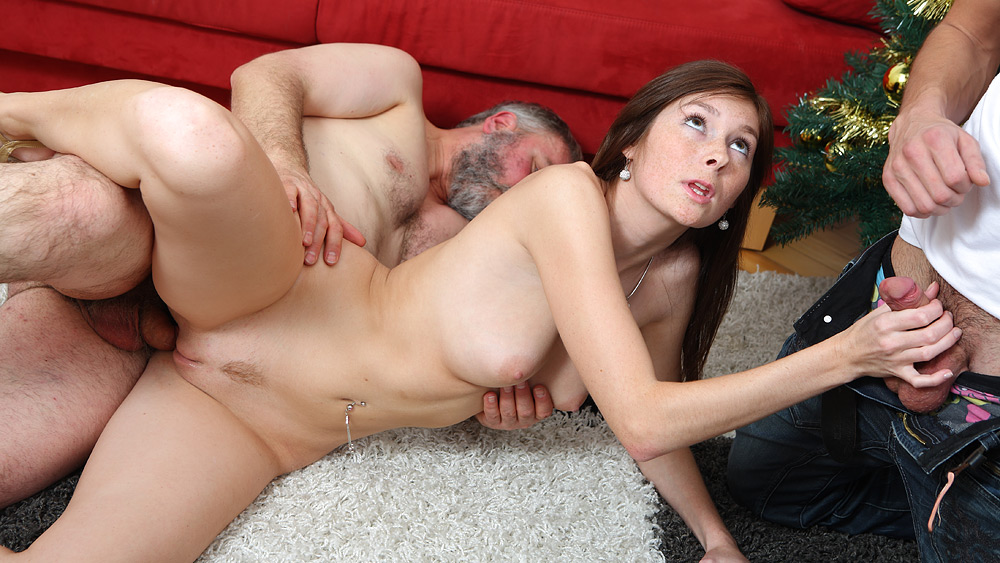 Length: 33:51

When this young man leaves his girlfriend alone with this old guy he has no idea that the filthy, lecherous old fucker intends to get his cock out and make advances on the girl. However, when he is left alone the old dude certainly gets a welcome reaction from this young woman. She loves him licking her pussy and just as he gets her on the floor fucking her nice and hard her boyfriend comes back and ends up joining in for Christ's sake!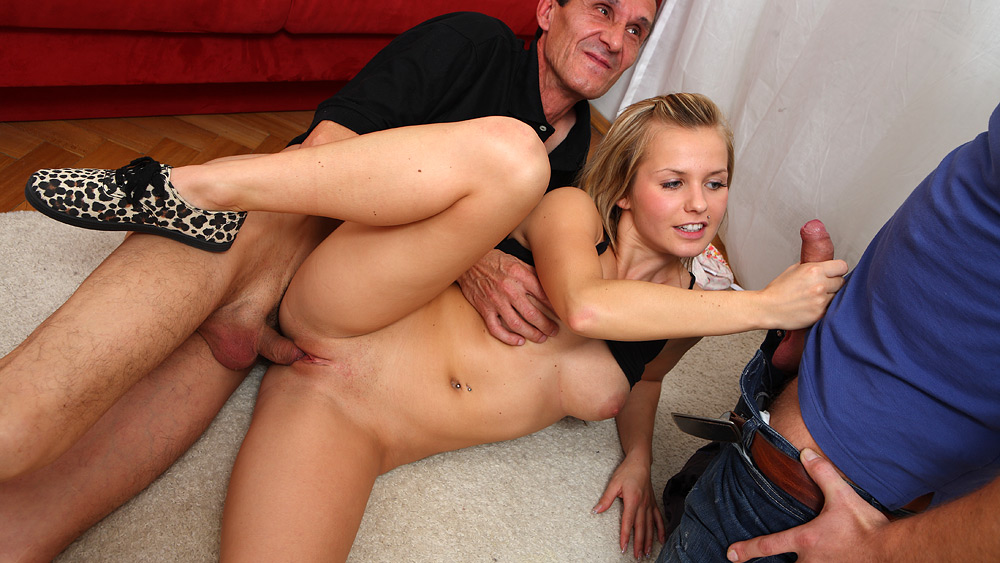 Length: 32:17

It's hard to know what goes through a girls mind when she's left alone by her boyfriend with another guy; not to mention a much older guy. She must have been attracted to him to begin with, he's not that bad looking is he? Anyway, once this older guy turns on the charm she is eating out of his hand, and quite literally eating his cock only moments later. When her boyfriend walks back in the room she has an expression on her face that simply says 'what the fuck happened?' and 'how did I end up fucking this old dude?' That's what happens when you get a young girl and an old guy together; well it is on this website!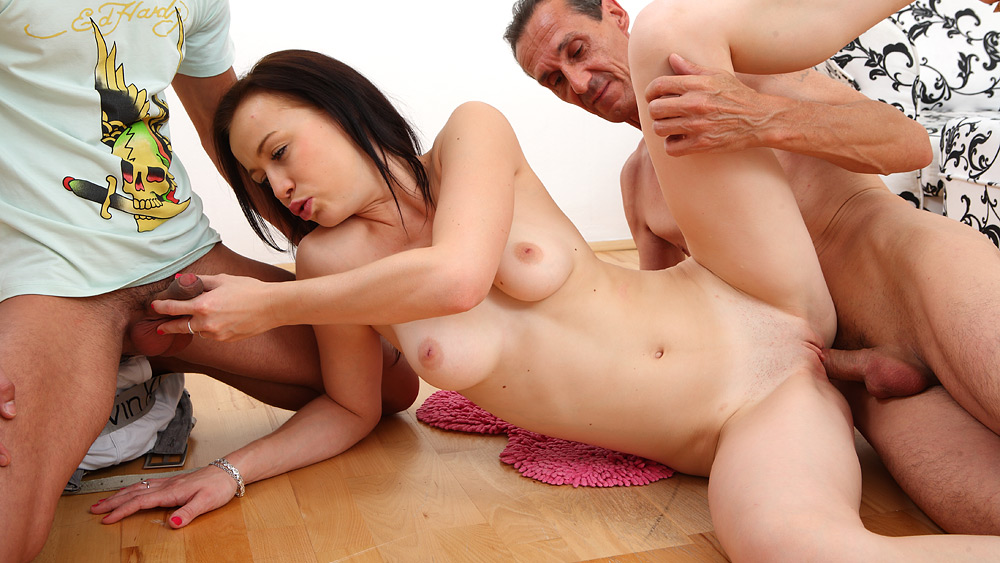 Length: 41:16

When Anastasia is given over to this older guy by her lover there is a little confusion, but when this older guy takes control and sits the girl on his lap things certainly get very clear, very quickly. Before too long this gorgeous babe has the old guy's cock firmly in her mouth and she is keen to get him buried in her sweet little pussy. When her boyfriend comes back after taking care of business he may look a little pissed off, but he's not stupid. He soon realises that this extra experience is only going t benefit him considerably!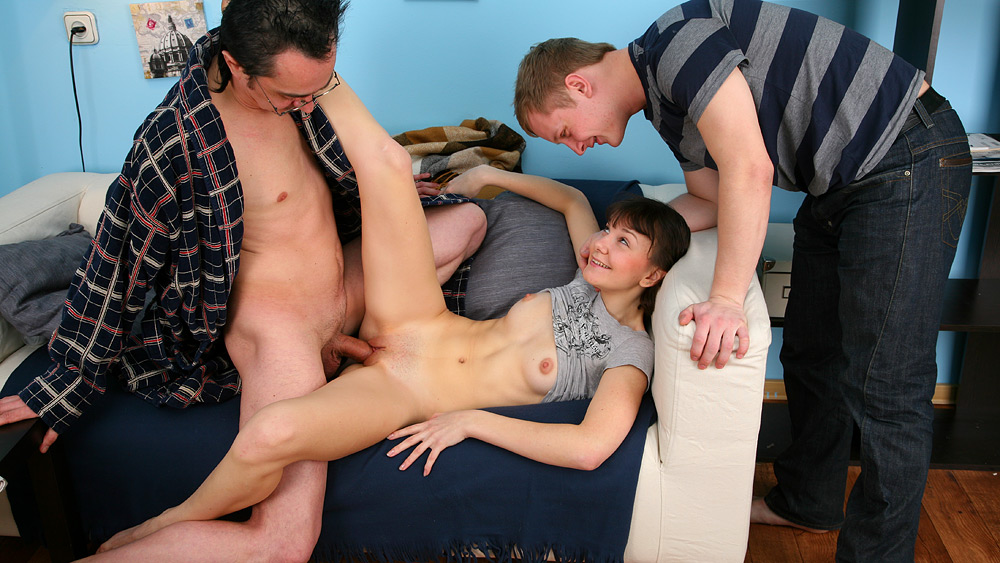 Length: 36:12

Jaclene and her boyfriend go to visit an old friend. This old friend is an older guy who appears to be lots of fun. So much so that he hands Jaclene's guy some money to go and get some champagne; although we're not quite sure what he wants to celebrate. The crafty old bastard manages to get the younger guy out the way however so he can get his claws into the babe. And this babe is very keen to learn some new tricks. When she gets her hands on his cock everything feels right to her and she just wants to suck and fuck until her man returns. Then she wants to do it even more!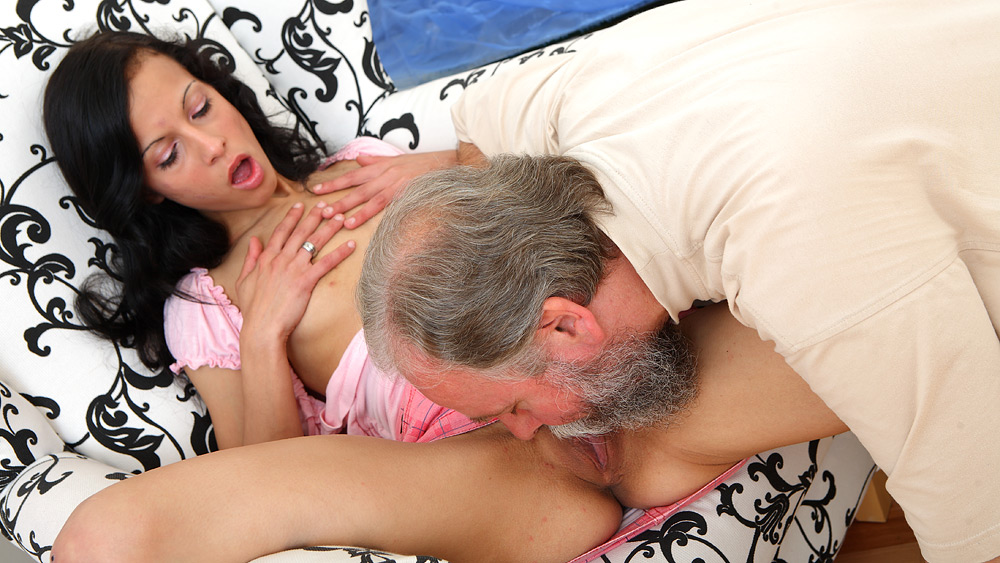 Length: 40:12

Tonia is one hot young babe and any old guy's fantasy. This old guy is the one who gets to have a go on her however, and although her boyfriend isn't too keen when he comes back into the room after having to leave for a while, he knows that it's for the bet when Tonia learns so man dirty tricks from the old timer. Experience simply can't be beaten when it comes to fucking and the boyfriend takes quite a lot from the encounter himself. Both guys end up shaking hands and leaving on good terms. That's what we call getting on with people! When you're prepared to share your woman with another guy, particularly with someone who fucks better than you, you're certainly a team player.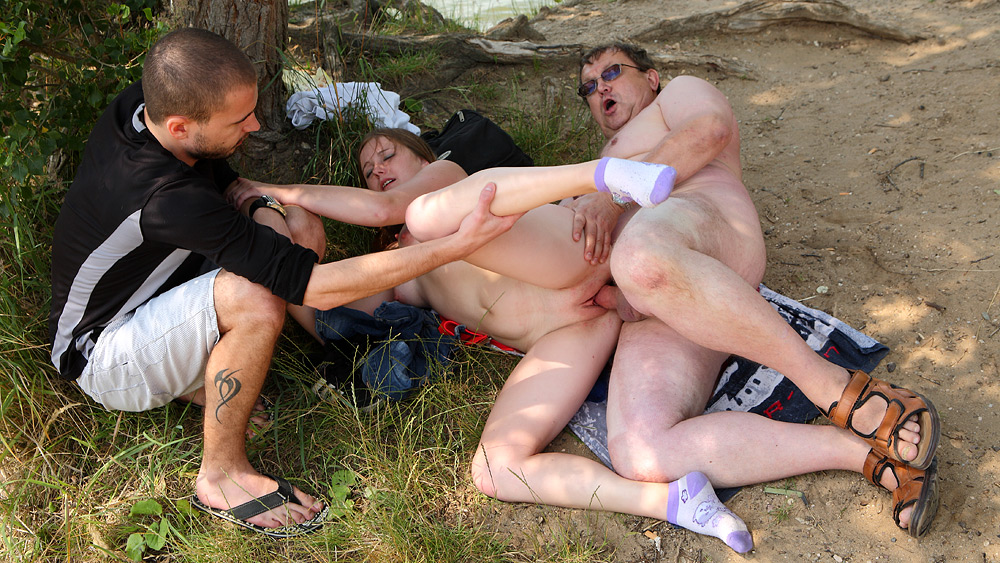 Length: 42:29

Celine doesn't really look like she wants to take part in this freakish activity, but nce this old guy gets his cock in her mouth she looks up at his though she didn't know how it happened and them quite happily continues to suck on that cock. Her boyfriend had to leave the scene of course and the old guy made his move; and what a move it was. Thinking that he was leaving his girlfriend in safe hands, this boyfriend comes back only to find that those hands were a little too eager to please!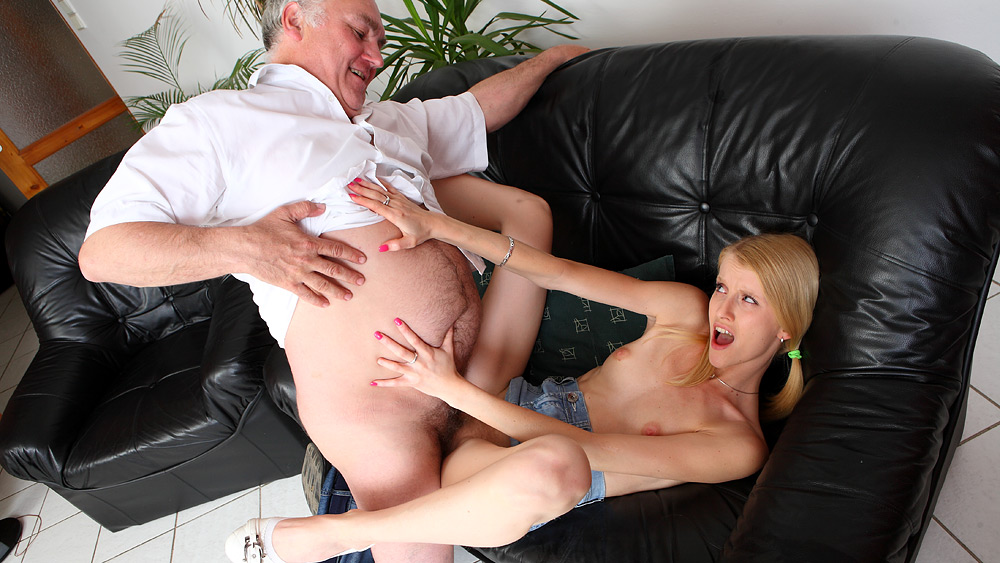 Length: 31:57

This is a classic Old Goes Young scene and it's one of our favourites. Ginger is one of the hottest young babes we've featured on the site and she gets one of the best shags too. Little does she realise that she is going to be left alone with this horny old bastard and that she is going to be drilled from top to bottom by his cock whilst her boyfriend takes care of something off screen for a while. It's a great scene that gets even better when her boyfriend comes back in and catches the old guy with his cock stuck in Ginger's pussy. What can he do other than join in and benefit from the experience too? They all took a lot away from this scene and we are sure that Ginger and her boyfriend have a much more adventurous sex life since this encounter!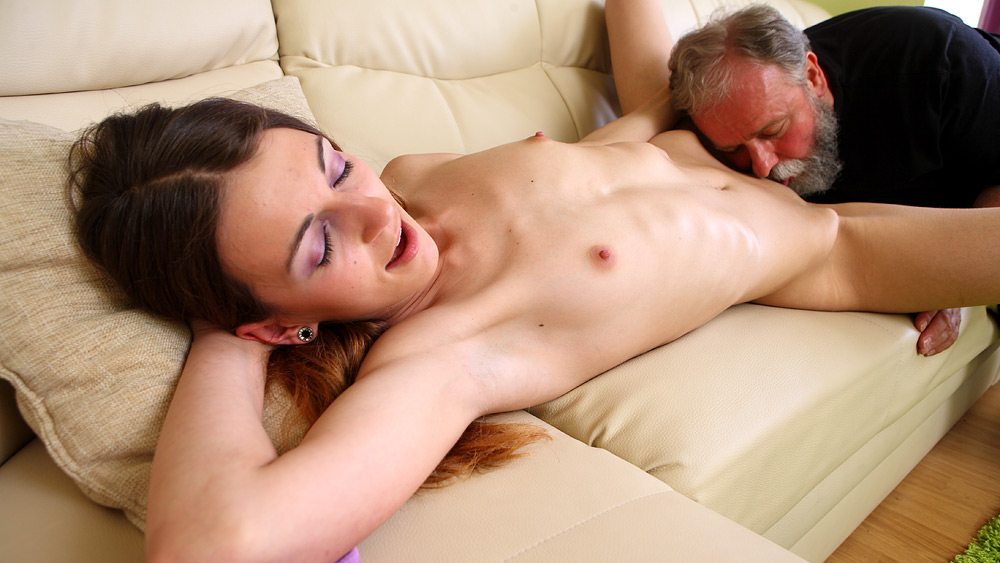 Length: 32:53

Nina is the girl of the moment in this Old Goes Young scene and she gets her sweet pussy fucked good and hard by the old guy. She doesn't really look like she's interested at all before they get it on, but once her boyfriend is gone for a whole and the old guy starts turning on the charm she soon begins top real and allow the filthy old perv to get his hands on her lovely pert tits. It a gets much harder from there and when she find gets his cock in her hand there's no stopping her. She isn't phased at all when her boyfriend comes back to find her fucking another man, she simply wants him to join in,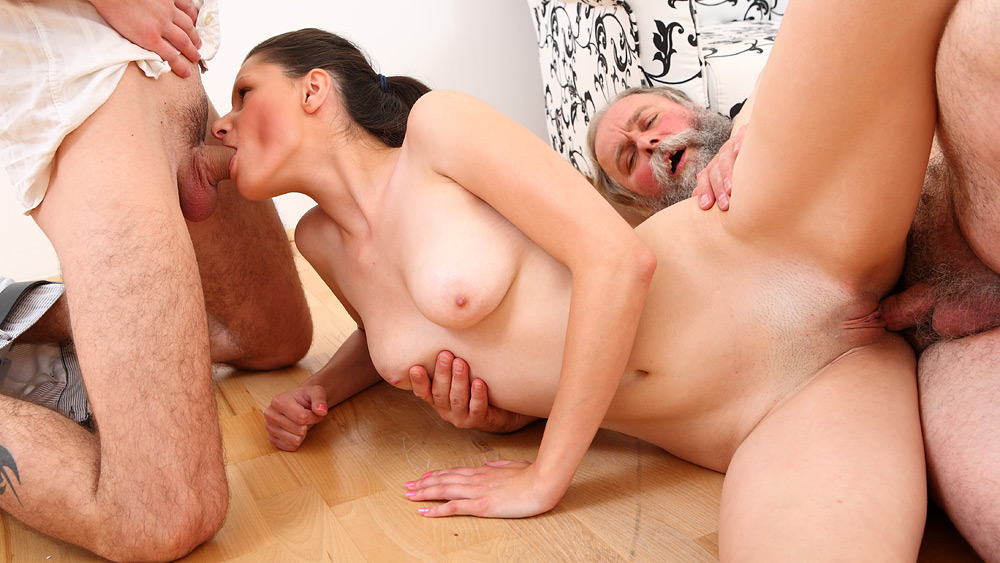 Length: 39:22

Simona never had a thing for bearded guys before this shoot, and she certainly hadn't considered older men either; particularly fat old men like this guy. But oh oh boy has she learned that these old guys can fuck! This fat, bearded old guy may look like he'd have trouble combing the stairs, but when you see him boning Simona and hardly breaking a sweat you can tell that this isn't his first young babe on the couch. The action continues to get hotter as they are interrupted by Simona's boyfriend, who walks back into the room only to be confronted with the two of them fucking right before his very eyes. The inevitable arguments occur but are soon extinguished as the boyfriend realises his woman is having a nice time and considers that he may as well join them!