Total Girls:907

Total Photos:332,666

Total Videos:2,248

Total Content: 3776.64 Gbs

Never, ever, ever leave your teen girlfriend in the company of old men. You may have suffered a month before she let you into her panties, but it will take less than five minutes for these grey lechers to make her ride their wrinkled rods like a wild. But, if you have already made this mistake - just join them and enjoy the action!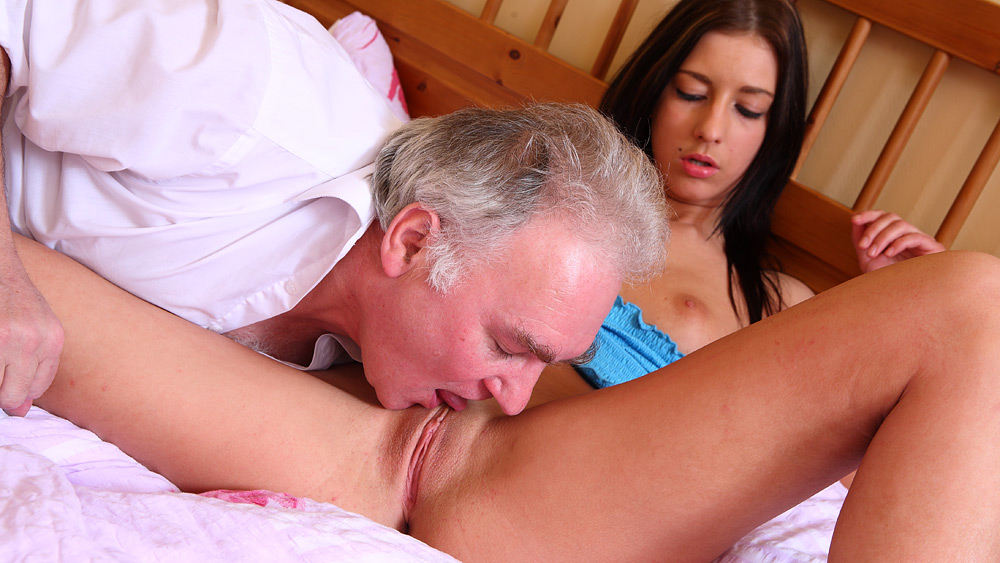 Length: 43:17

Zarina is a babe, there are no two ways about it! Her boyfriend is lucky to have her, so what on earth possessed him to leave her with a sex hungry old man is beyond us! This old man can't wait to get his hands on her gorgeous soft body, and in particular those pert little tits. He can't believe his luck when the boyfriend finally leaves, and he virtually pounces on Zarina. You'd think she would put up a fight, but she actually wants the attention and thoroughly enjoys him kissing her body all over before getting his cock out for her to suck on and take into her peachy, cute little pussy. When her boyfriend returns he can hardly believe his eyes when he sees her getting screwed by this old guy, but what can he do other than join in? It looks like far too much fun to break up!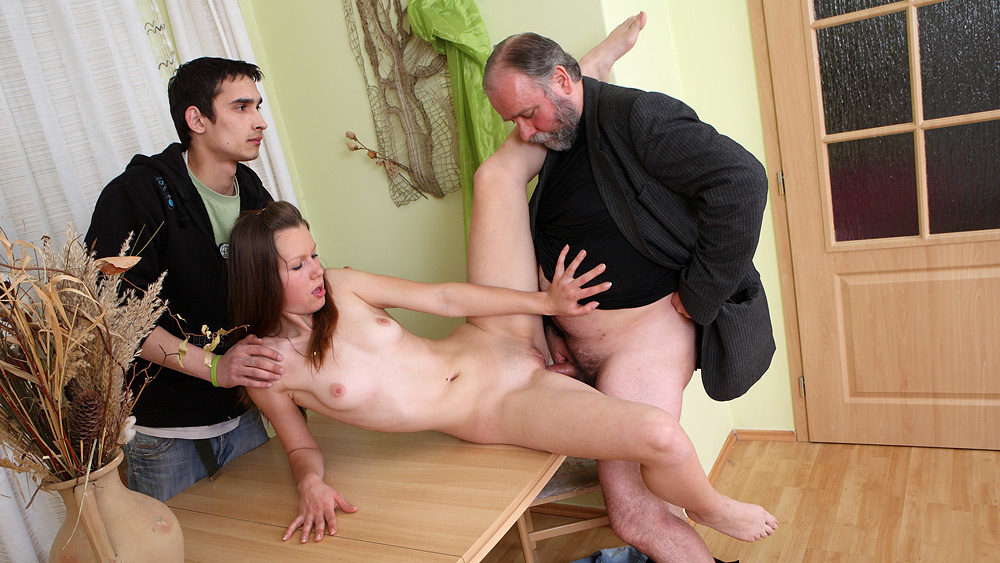 Length: 42:45

Naomi could never have bee ready for what happened to her when her boyfriend left her alone with an older dude. Old Goes Young brings you one of the best old guy, young girl fucking scenes you're ever likely to see in your life! Naomi thought the guy was a sweet old dude and enjoyed chatting with him when her boyfriend left them alone. Little did she know that this silver tongued old geezer would talk his way into her knickers within a few minutes. The old guy knew he didn't have long before the boyfriend cam back so he uk all his skills to get her eating out of his hand, and subsequently eating his cock. The boyfriend comes back eventually to find his lovely Naomi laid on the floor with an old guy hanging out of her pussy, pounding away like a fiddler's elbow! What a scene!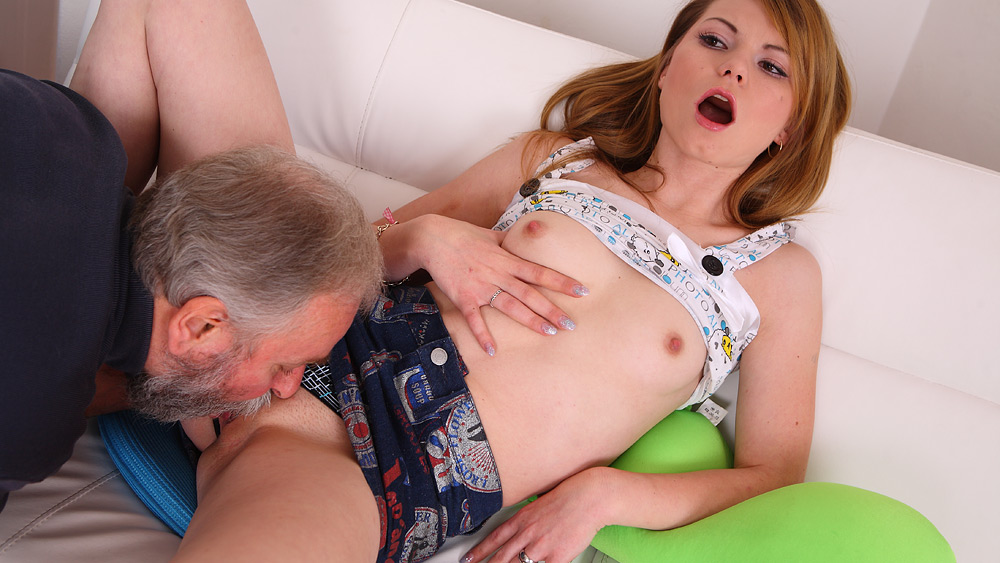 Length: 41:54

Sveta site waiting for her older lover to arrive. As he arrives, he takes off her top to suck her young and perky tits. He lifts her skirt and licks her young and shaved pussy until she moans in delight. Sveta wants his cock and kneels down to give her older lover a sensual blowjob. He wants to fuck her now and spreads her legs wide open and fucks young Sveta in many different positions. He has Sveta from the side, her riding his cock and finally in a deep doggie style session. He slams his cock inside Sveta's pussy and she finishes by kneeling down and having his cum all over her mouth and tits.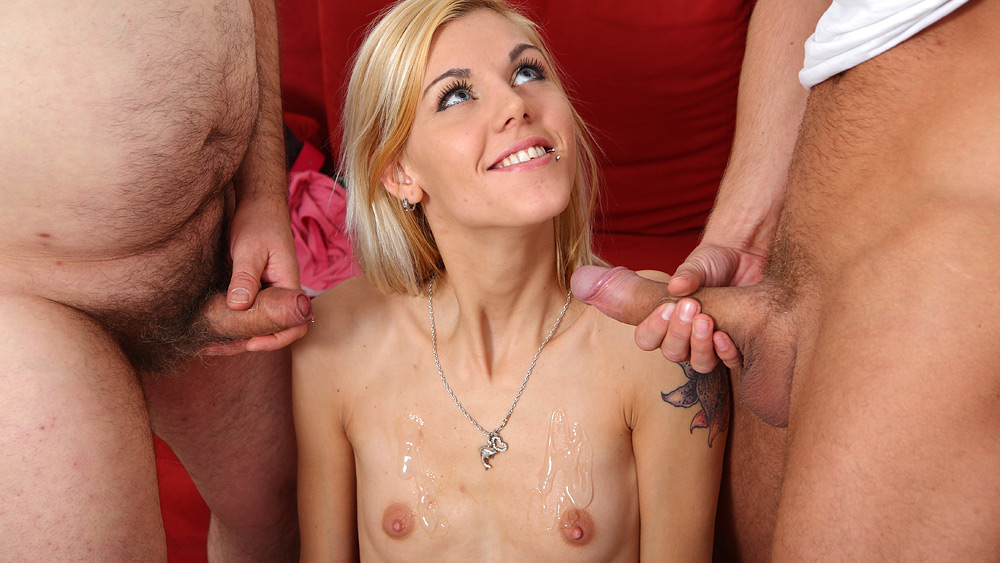 Length: 42:57

The dirty old, bearded bastard is at it again, only this time it's a beautiful young blonde babe called Lola. She is a very impressionable girl, so when her boyfriend leaves the room for some out of the blue phone call that can't possibly be missed, the old bastard gets his claws into the young flesh of the lovely Lola. Lola really begins to enjoy herself as this dirty old fella starts to get his cock in her mouth and she begins sucking. It turns out that Lola had always had a thing for the older guys anyway! Lucky old bastard!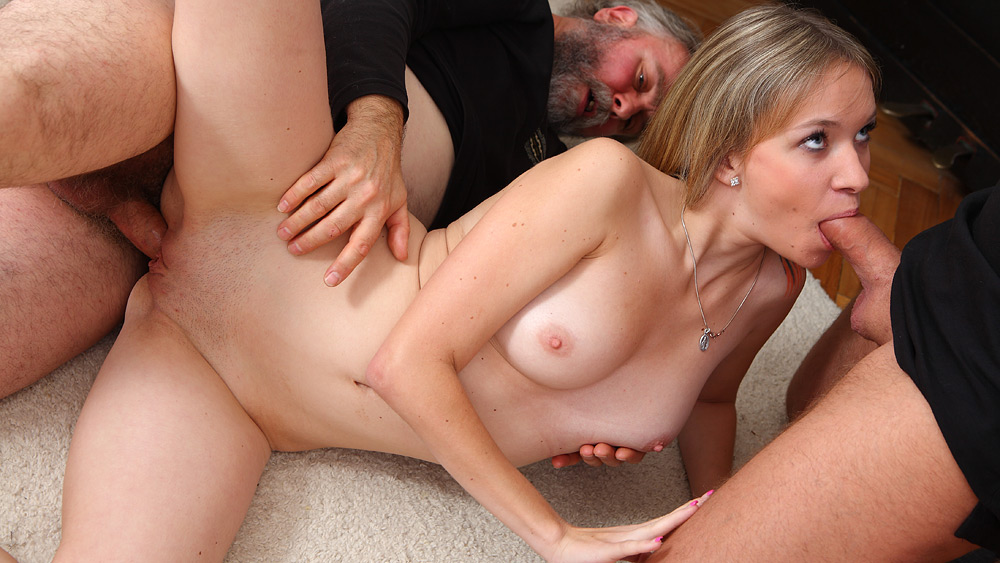 Length: 42:55

We imagine that it's hard to push off the advances of an older, charming man, if you're a young girl; but to be honest we don't care about it as long as we get to see the babe getting nailed by him. That's what happens with Maya. She just doesn't have the willpower to keep the lecherous old dude from getting in her pants. It's not as though she doesn't want it however, because when he suggests these things she simply giggles and goes along with what the old guy wants! Once she drops to her knees and starts chomping on the old guys cock there's no stopping her! When her boyfriend comes back into the room he doesn't have a choice other than to join in the action!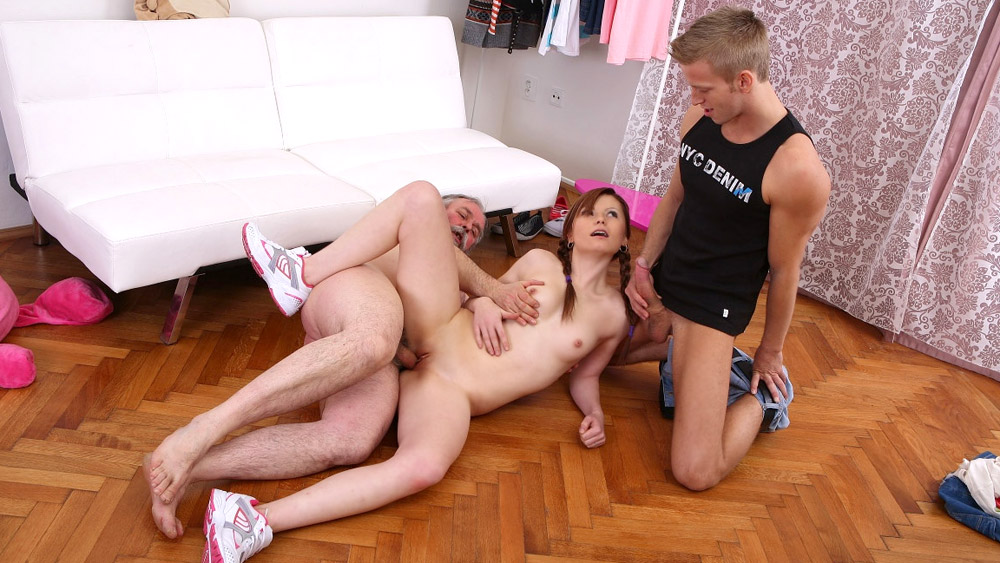 Length: 43:53

Miriam and her boyfriend have no idea what's going to happen when they meet this randy old sod. The old guy has the idea that he wants to fuck Miriam nice and hard as soon as he meets her however, and before long he gets the opportunity to do so. It begins, as it mostly does in Old Goes Young, with the boyfriend getting a phone call on his mobile and unexpectedly having to leave the room for a period of time. This is the old guy's chance. He makes his move and before she knows what is going on Miriam is being seduced by this randy old git. He begins by sucking her pert little tits and then before long he has his cock in her mouth. Then it gets even better!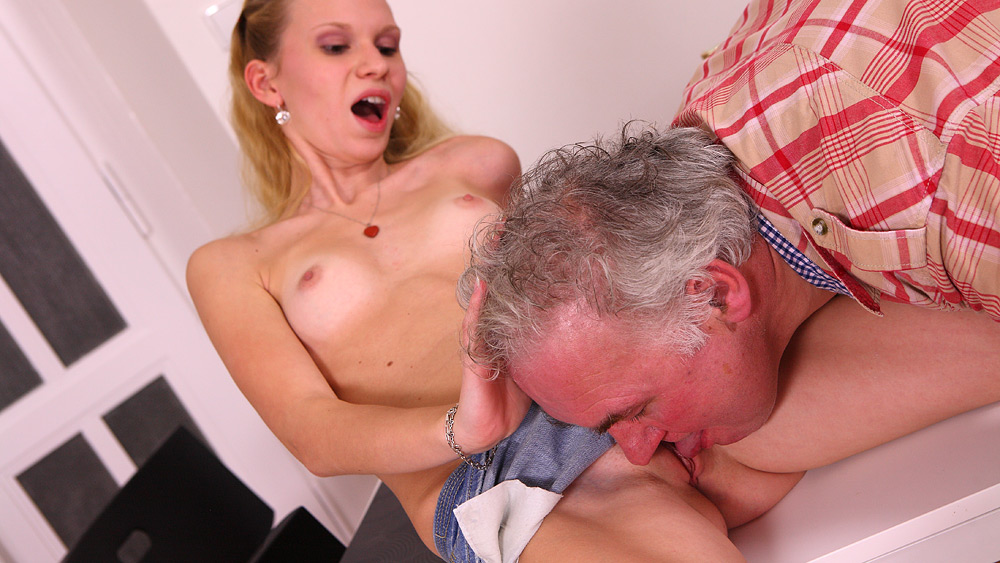 Length: 42:24

Having lunch with your boyfriend is something perfectly natural for Rosy. However, being interrupted by an older guy who then proceeds to seduce you when your boyfriend leaves the room is not a normal occurrence. Rosy loves the attention however. She is incredibly turned on by the attentions of an older man, and this randy old bastard certainly takes advantage of the situation by shoving his cock wherever he can get it. When the boyfriend comes back though the shit really hits the fan and for a moment he is well pissed off with what he sees. However, it doesn't take him long to see the advantageous position it puts him in and is quick to get his cock out for a nice blow job to make up for her disloyalty!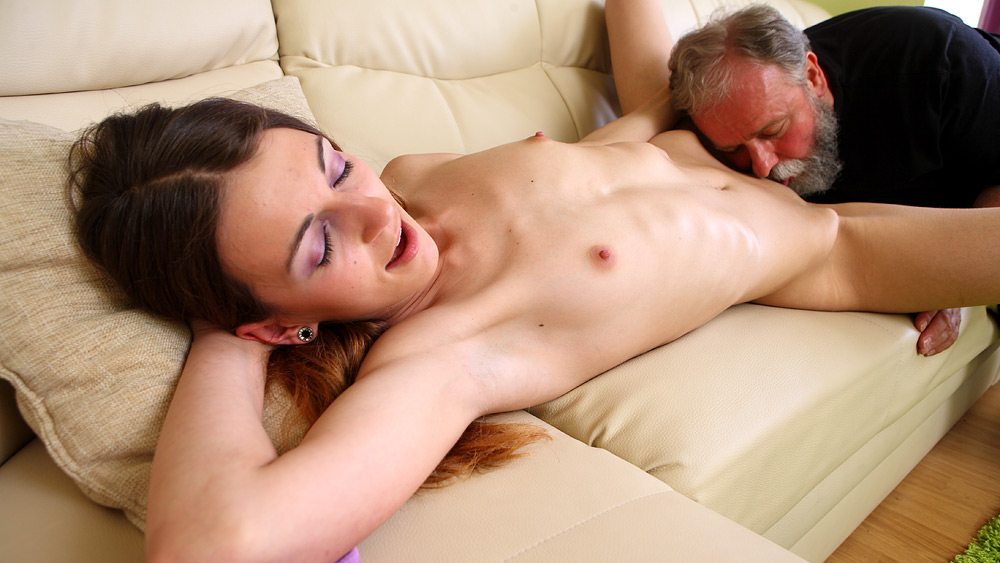 Length: 45:46

Nina is the girl of the moment in this Old Goes Young scene and she gets her sweet pussy fucked good and hard by the old guy. She doesn't really look like she's interested at all before they get it on, but once her boyfriend is gone for a whole and the old guy starts turning on the charm she soon begins top real and allow the filthy old perv to get his hands on her lovely pert tits. It a gets much harder from there and when she find gets his cock in her hand there's no stopping her. She isn't phased at all when her boyfriend comes back to find her fucking another man, she simply wants him to join in,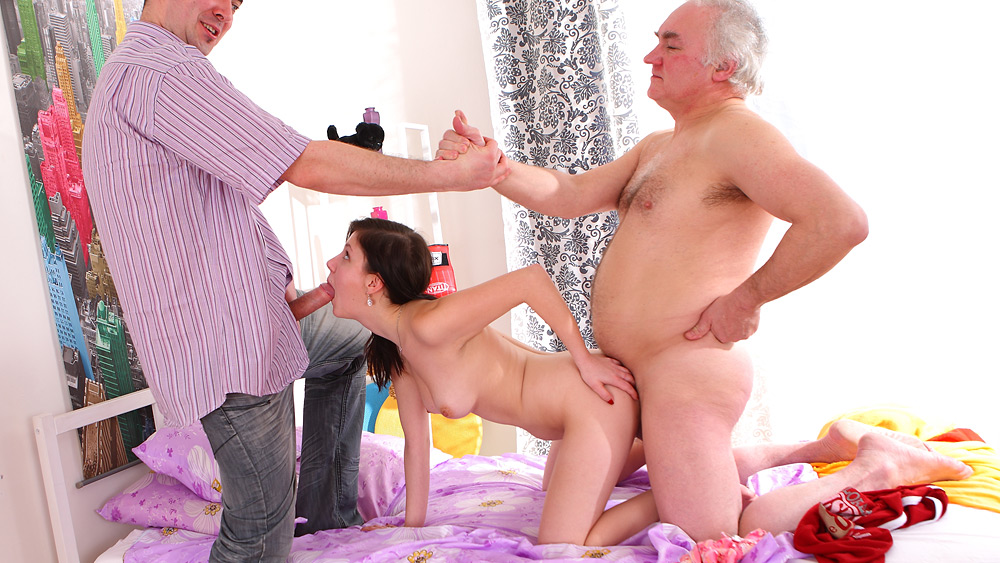 Length: 38:26

Alena and her sexy lover are in bed and her man tells her of his older friend. He wants him to have sex with her. Alena is a young and sexy woman and is in bed with her young lover. He tells her about his older friend, and wants her to fuck him. The older friend climbs into bed with her and begins to suck and lick her young breasts. She loves his older tongue on his body. He then moves to spread her young legs open and lick and eat out her wet and pulsing pussy. He fucks her deeply and thrusts his older cock in her young pussy. Alena then has both of her lovers fuck her at the same time in a sexy threesome. They both finish by cumming all over Alena's sexy face and body.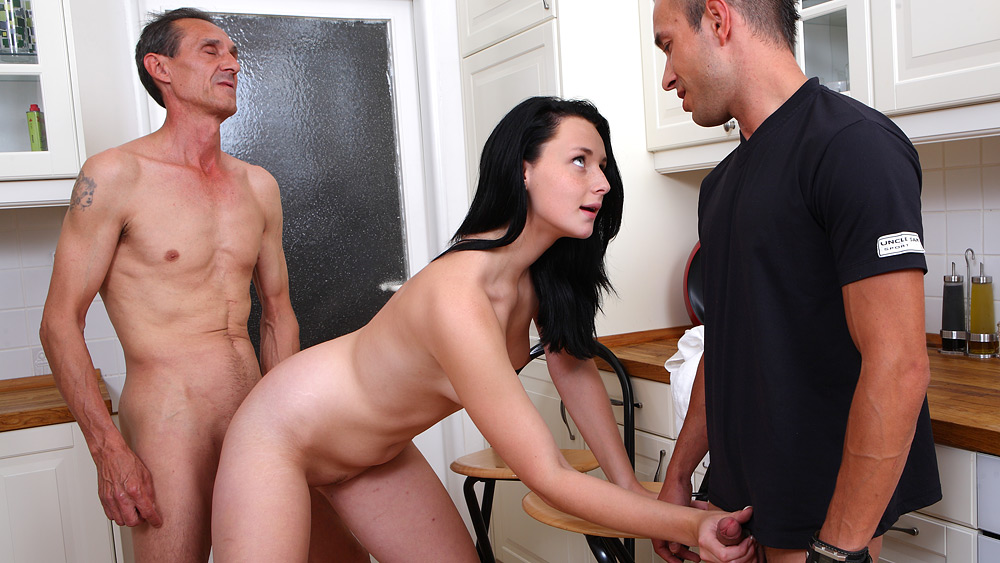 Length: 31:28

The older guy will usually win out in the end when it comes to getting the girl, but this older guy isn't out to take the other guy's girl away, he just wants to help out a little and maybe have a little fun himself. When he finds a way to get rid of the girl's boyfriend he decides to make a move on her and is a little surprised when she doesn't pout up much of a fight at all! Perhaps she's been waiting for a guy like this to take control for a while? Anyway, it all soon kicks off, especially when the boyfriend returns and has a hard lesson to learn while he watches his girlfriend sucking on another guy's cock! Experience wins over in the end however, and everyone ends up very happy indeed.
Home
Next Tour
Tube Videos
GET INSTANT ACCESS
Members
[Customer Support] [Terms and Conditions] [Refund Policy] [Privacy Policy] [Segpay Support]

Webmasters, make money here!

————————————————————————————
All models were at least 18 years old when they were photographed.
18 U.S.C. 2257 Record-Keeping Requirements Compliance Statement



Vendo is our authorized reseller.
Please visit Epoch.com, our authorized sales agent.
Copyright © 2014 All Rights Reserved.