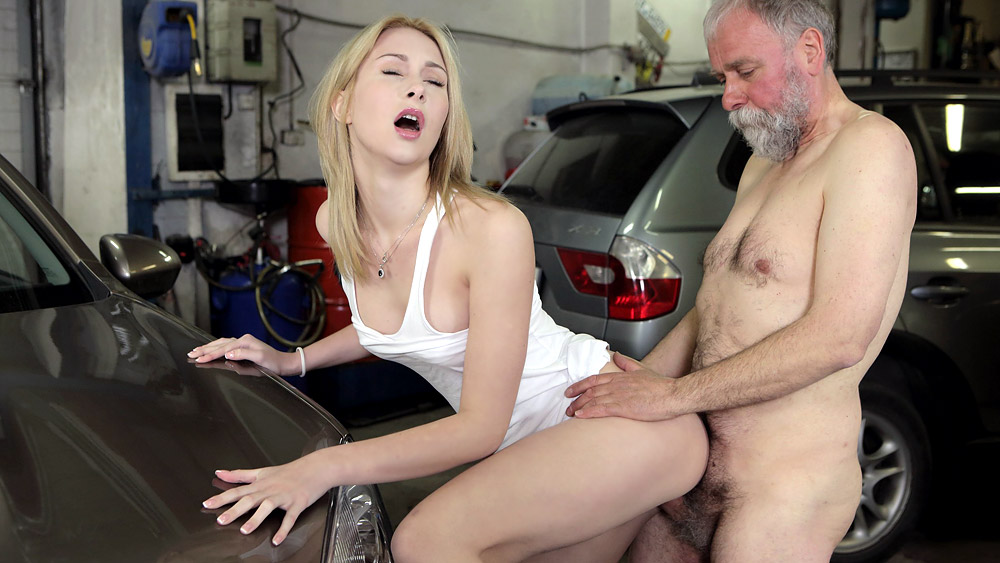 Length: 33:53

Frances wanted to get a job. She knew the boss of the organization she wanted to work for and she pretended to meet him accidentally at the basement parking lot. She flirted with him and kissed him before giving him the blowjob of his life. This old goes young guy wanted to show her he still had it and licked her good before banging her with all he had. He finished by spraying his seed all over her face. He loved banging young girls and she had exploited his weakness.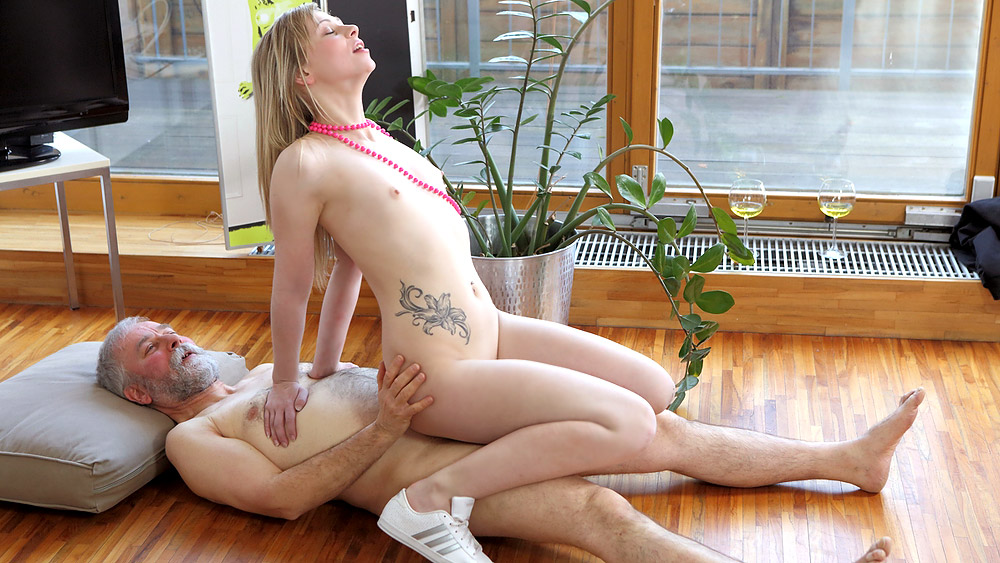 Length: 43:43

Renata was looking lost and lonely. This old goes young guy was passing by when he saw her and saw that she needed someone to talk to. They spoke a bit before he invited her inside. They drank some wine and spoke a bit before they found themselves kissing. Then it led to oral sex and she sucked him good and he returned the favor by licking her nipples and pussy. They were all horny and they fucked each other's brains out like pornstars, never mind the age difference.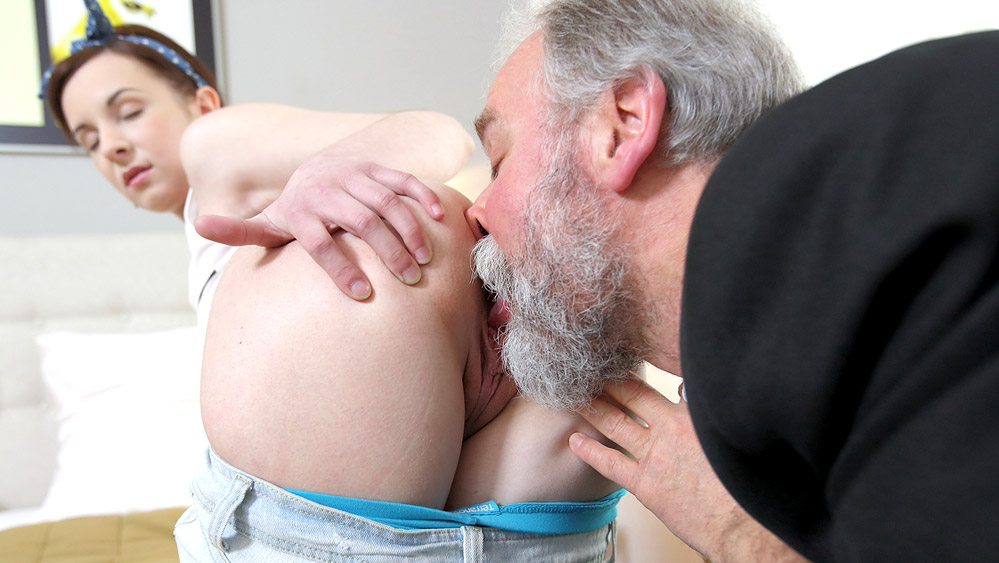 Length: 41:41

Lenka stopped this guy in the streets to ask him something. They had a small chat and he invited her to his hotel room. She was playful so they had fun. He noticed her nice ass and wanted to see more of it. He undressed her and to her pleasant surprise, he licked her pussy with such finesse she was turned on. She also sucked the old goes young guy's dick and made it rock hard.She loved how hard it was and climbed on top and rode it good. He took her from behind and the great view was a bonus.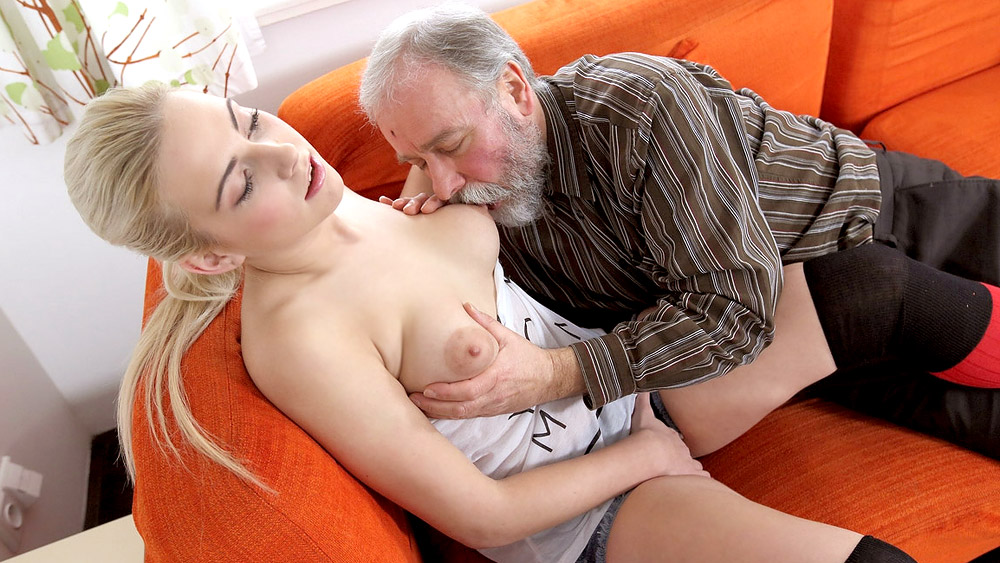 Length: 42:32

This guy is sneaky and loves having fun. He had a girl he wanted to fuck and knew just the place to take her. He took her to his storage unit which he had furnished well. When they reached there, this old goes young guy did not waste time. He kissed her then sucked her tits before licking her pussy. She got horny and sucked his cock before they could not hold it any longer and fucked in several styles till they both came explosively.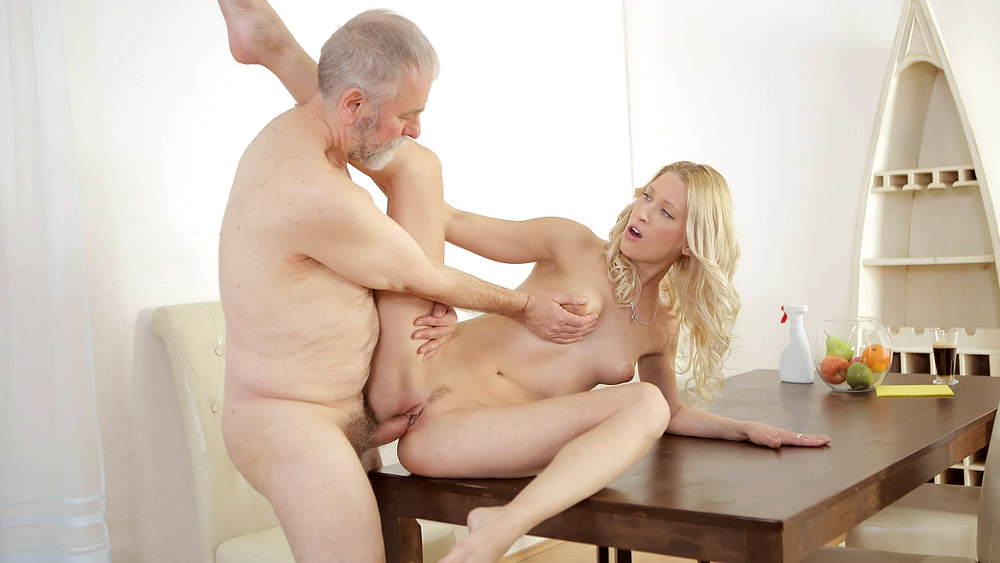 Length: 38:30

This guy had always wanted to fuck a young girl. He had always heard of old goes young tales and wanted to try it as well. There was a girl in his office building who attracted him. He used his charm and experience to seduce her and invite her to his office. He was funny so they chatted a bit before he asked her to come closer and he kissed her. They kissed passionately before sucking her breasts, undressing her and licking her pussy. She sucked his cock and they had great sex in all kinds of positions.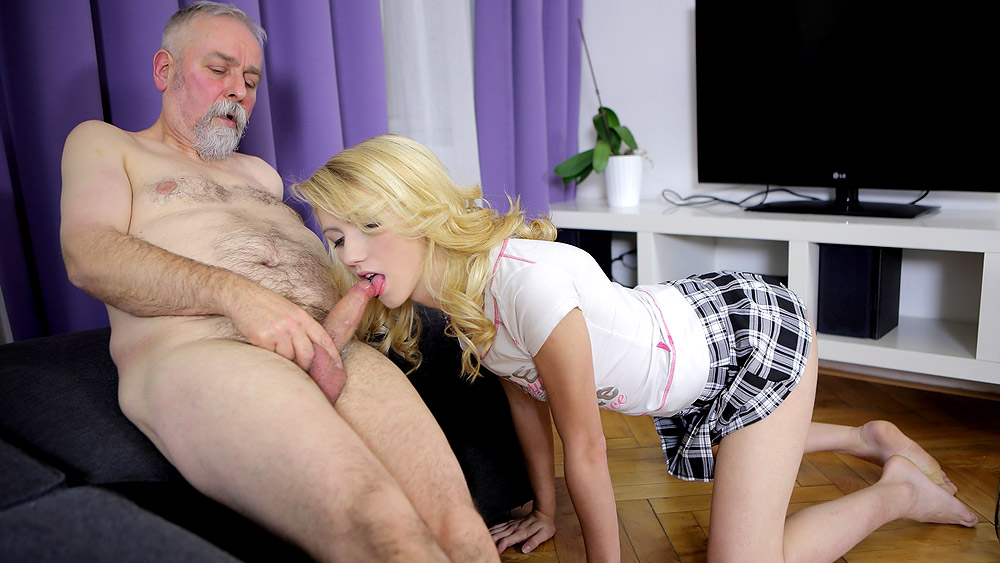 Length: 34:46

The best decision this guy made was to try old goes young fetish. He got Helena there and it has always been fun. On this day, he was relaxing on the couch and she was feeling horny. She went over to where he was and kissed him before giving him a mind blowing blow job. After she was done, he went after her tits and sucked them before licking her pussy. She went crazy and before long, they were fucking crazily in all kinds of positions. It all ended with him cumming in her mouth.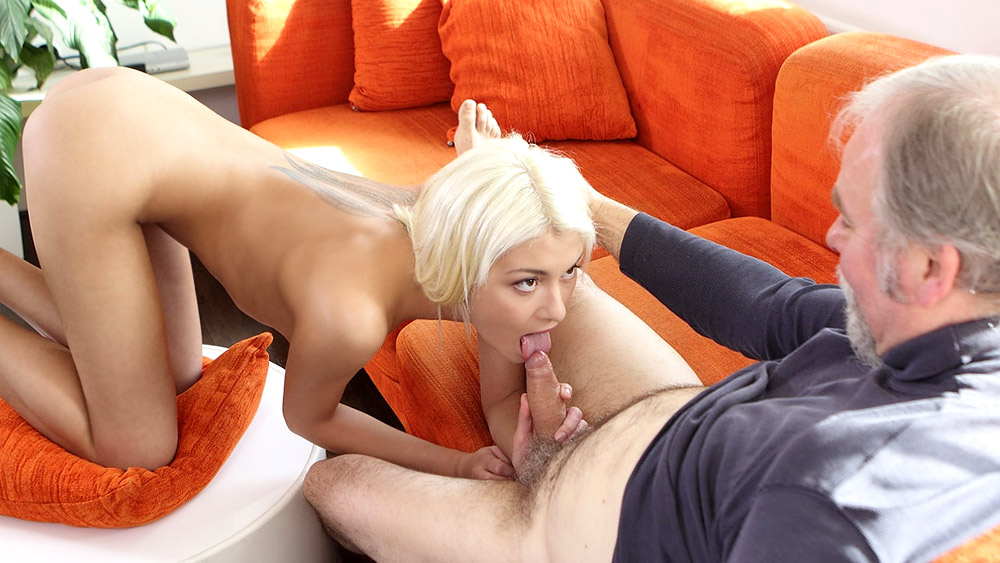 Length: 38:32

Like the classic tale of old goes young, this rich old guy employed a young and hot secretary and she did more than office work for him. They met at her place and she was reading a book waiting for him. He went after her boobs and licked them making her hot and bothered. She undressed and he sucked her pussy like only he knows how. She screamed in pleasure. She sucked his dick till it was rock hard and before long, they were fucking in all kinds of positions.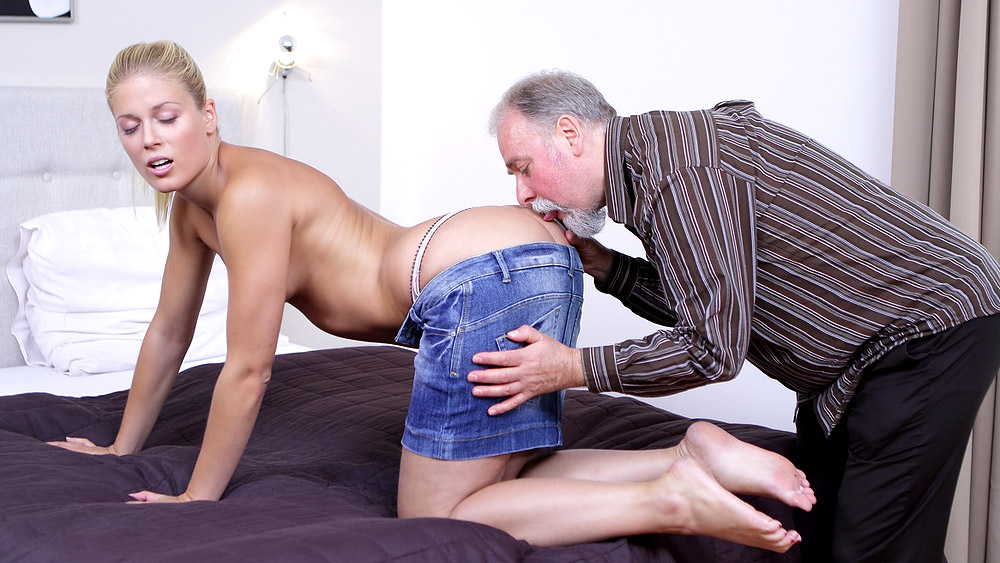 Length: 32:28

This old guy met Elena at the local coffee shop and convinced her to go to his place. He wasted no time once they got inside, and started kissing her and gently held her boobs. Slowly and methodically he unbuttoned her shirt and started caressing her tits and sucked on her nipples. Next her denim skirt came off as she bent over on her hands and knees. And as her ass slowly got exposed he kissed her ass cheeks. Then he flipped her over and hungrily ate her young pussy! Elena finally got to suck his dick and then let him fuck her from a variety of positions and they finished off with him blowing his load on her face, breasts and body!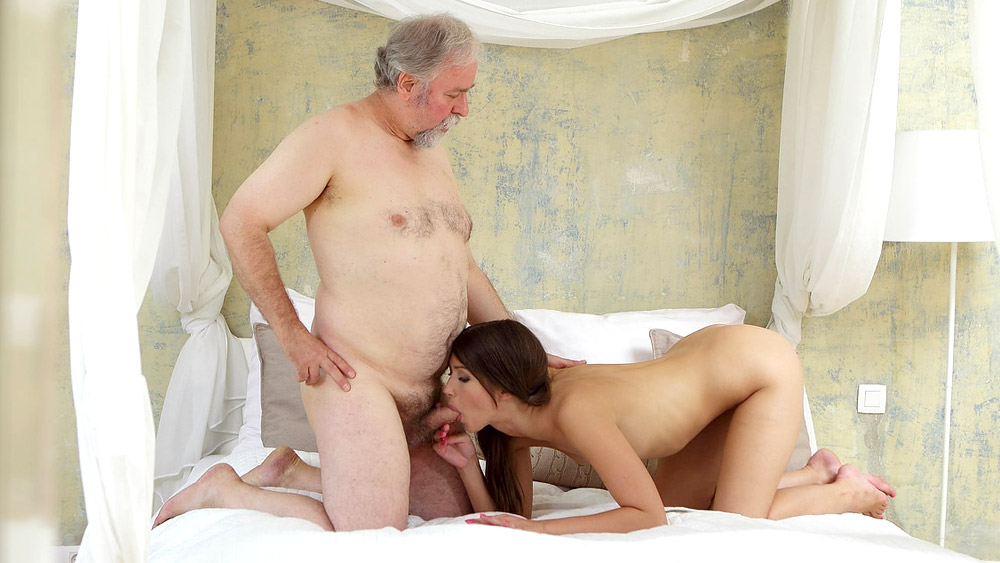 Length: 31:49

Marisa was sitting with this old dude and the conversation was pleasant enough she decided to share a bottle of wine with him. After a few drinks he talked her into changing into her robe only. After a few more sips she showed him her young naked body and from there he took her into the bedroom where she gave him a blowjob. She really got into sucking the old man's cock and she absolutely loved it when he put his skilled tongue to work on her shaven pussy! She then got on top to feel his cock as deep as it would go before he slammed her pussy from behind! She couldn't believe this old guy was so go in bed and she finished him off by sucking his dick dry!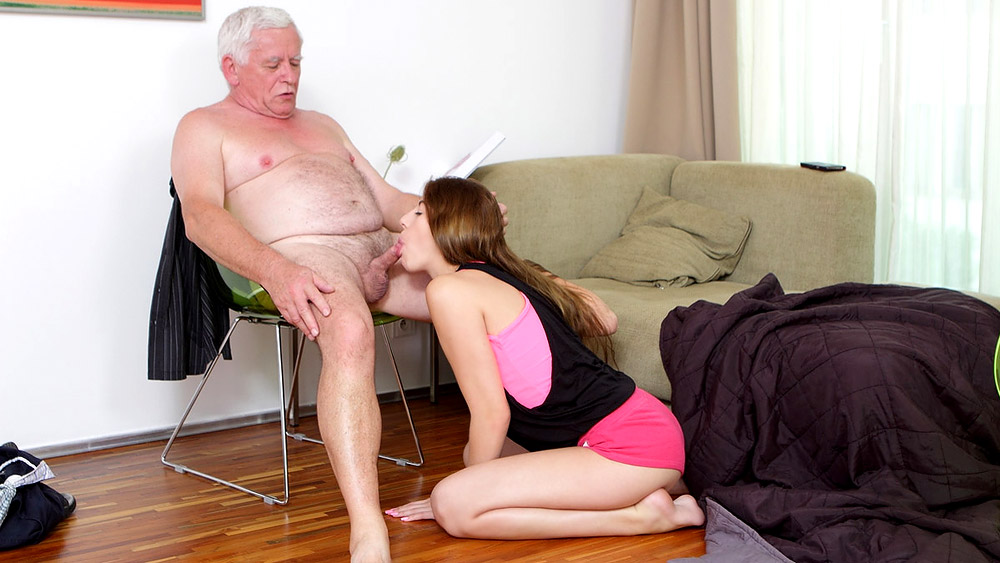 Length: 35:47

Rita was busy studying and didn't realize how late it was getting. So she called for a pizza just so she could keep on studying. But when the old guy show up with the pizza, Rita didn't have enough money. At first the guy was pretty mad, but then she started to rub his stomach and promised to make up for it. She got on her knees and sucked that old dude's cock until he thought he was going to pass out! Then after licking her young pussy, he fucked her from the front and back and then shot his load all over her pretty young face!